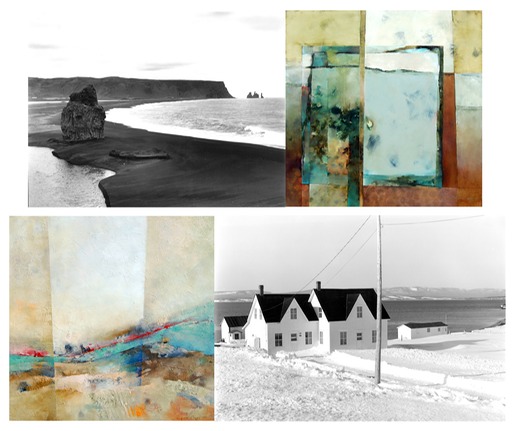 Top left, Ocean Rock, by Mark Rothkopf
Top right, Stumbling on Serenity, by Colleen Clapp
Bottom left, Hanging in the Balance, by Colleen Clapp
Bottom right, Ocean Front, by Mark Rothkopf
In August, TAG presents A Photographer & A Painter   
In August, TAG of Frederick (formerly The Artists' Gallery). will feature an exhibition by Colleen Clapp and Mark Rothkopf entitled, A Photographer & A Painter.  This show, along with an exhibit of work by the other Gallery members, will run from August 1 through 31, with a reception from 5 to 9pm during First Saturday on August 2. 
Colleen Clapp, award winning artist and illustrator, was raised in an environment surrounded by art and artists. Dedicated to the visual arts at an early age, she studied fine art in college and went on to learn graphic design and illustration. 
She has enjoyed a very diverse art career that has spanned a period of over 30 years.  Commissions include public murals, magazine and book illustration, portraits, and paintings in a variety of media.
In recent years, she has surrendered to the call of the fine arts again and exhibits her oil paintings in the Baltimore and D.C. metropolitan areas.  Clapp maintains a studio in Frederick, Md.
"These paintings, which some may see as abstracted landscapes, are a collection of color, rhythm and texture," said Clapp.  "To me, they represent a journey - perhaps a 'pilgrimage in progress' to an unknown place, a mysterious beginning, or an inevitable ending. I hope you find these works create a sense of quiet, reflection and introspection.  Enjoy the journey."
Mark Rothkopf grew up near Woodstock, N.Y., in a beautiful area full of colorful characters.  He earned at B.A. from the University of Maryland, studying studio art and art history.  While there, a friend introduced him to black-and-white photography and helped him set up a darkroom.  A photography workshop he took in Vermont "changed me forever," he said.  "The work stirred a passion in me that has never left me." 
Rothkopf began to travel in his thirties.  His search for the unusual led him to Iceland and Canada's Gaspé Peninsula.  "There I found a beauty and peacefulness I had never experienced before," he said.  "This show is about those trips and how they have affected my quest for that same sense here at home."
TAG of Frederick is located at 216 North Market Street, in Frederick.  Gallery hours are Friday, Saturday, and Sunday, from noon - 5 pm, or by appointment. For more information, please check out this site or call (301) 696-8187 during gallery hours.  
________________________________________________________________

TAG of Frederick is an artist cooperative established in 1990 and features monthly
solo exhibitions by members, as well as ongoing group exhibitions. A rich variety of subjects and mediums is always on view, ranging from realistic to abstract, and traditional to experimental mixed media creations. Please drop in and discover the wealth of talent right here in Frederick!
TAG of Frederick
216 North Market St.
Frederick, MD  21701