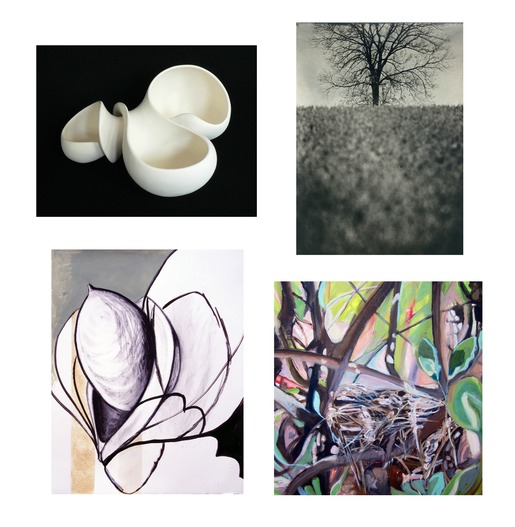 Small Works / Big Hearts
During December, The Artists' Gallery of Frederick, MD, presents Small Works / Big Hearts, a show of artwork by Gallery members, with each piece being 20- by 16-inches or smaller. Work will be modestly priced with holiday gift-giving in mind, and ten percent of sales going to the Frederick Community Action Agency .  
The Gallery now has twenty members who explore a variety of media. Look for photographs by Brady Wilks, Marc Weinberg, and Charles Bowers, ceramic pieces by Shelley Stevens, paintings and assemblages by Chris Noel, paintings and prints by Jan McIntyre Lamb, paintings and sculpture by Joanna Morrison, two- and three-dimensional collage by Julie Maynard, paintings and drawings by Phyllis Jacobs, paintings and pastels by Nancy McLoughlin, paintings and ceramic pieces by Chris Stovall, and paintings by Lisa Tarkett Reed, Linda Slattery Sherman, Liz Holm, Colleen Clapp, Joan Tarbell Plato, Tina Lund, Marie Riccio, Paula Rubin-Wexler, and Ray Burns.
The show runs December 6th to 29th, with a reception from 5 to 9pm on Saturday, December 7th.  
The Artists' Gallery, is located at 4 East Church St., in Frederick.  Gallery hours are Friday, Saturday, and Sunday, from noon - 5 pm, or by appointment. For more information, please check out this site or call (301) 696-8187 during gallery hours.  
________________________________________________________________

The Artists' Gallery is an artist cooperative established in 1990 and features monthly
solo exhibitions by members, as well as ongoing group exhibitions. A rich variety of subjects and mediums is always on view, ranging from realistic to abstract, and traditional to experimental mixed media creations. Please drop in and discover the wealth of talent right here in Frederick!
The Artists' Gallery
4 East Church St.
Frederick, MD  21701