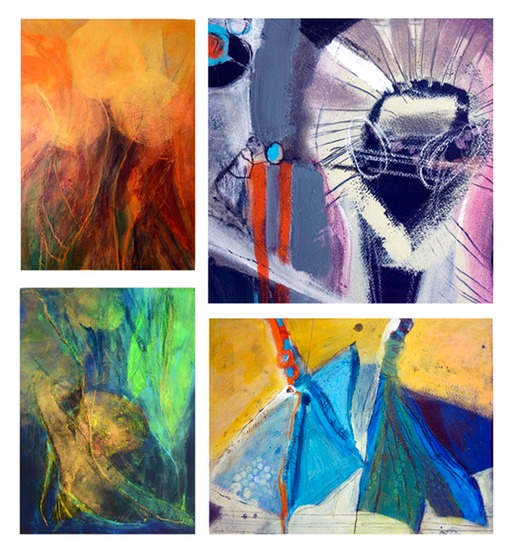 Top left, Carroll Creek Bloom 3, by Marion Griffin
Top right, Booby Feet, by Linda S. Sherman
Bottom left, Carroll Creek Bloom 5, by Marion Griffin
Bottom right, Blue Footed Booby, by Marion Griffin


In September, TAG presents Boobies & Blooms  
In September, TAG of Frederick (formerly, The Artists' Gallery) will feature solo shows by abstract painters Linda S. Sherman and Marion Griffin, titled "Boobies and Blooms." This show, along with an exhibit of work by the other Gallery members, will run from September 4 through 28, with a reception from 5 to 9pm during First Saturday on September 6. The Gallery will have special hours on Friday, September 19, and will be open from 5-9 pm to tie into the Frederick Downtown Partnership's Boutique Show. 
Sherman continues exploring her impressions of the Galapagos Islands with brightly colored paintings of sea, plants, and animals — including blue-footed boobies.  
A trip to the Galapagos in 2013 yielded the inspiration for this series of paintings and drawings. "As a lover of animals and the environment," Sherman says, "the birds, iguanas, giant tortoises, sea lions and underwater life — and the water itself — provided me with extensive subject matter."
She combines acrylic paint with charcoal, Conti crayon, and pencil, using strong line work to emphasize the intensity and vigor of life on the islands.
Griffin's "Blooms" series was inspired by an evening walk along Carroll Creek. "I was struck by the beauty that comes out of the dull and sluggish muck," she says.  "Being a life long meditator, I am always searching for what is stagnant within and how to move the debris away.  Carroll Creek became the metaphor for my most recent work.
"I used the 'muck' as inspiration to look deeper," Griffin says, "to find what gives life to the beautiful plants and flowers that rest gently on the surface."
TAG of Frederick now is located at 216 North Market Street, in Frederick.  Gallery hours are Friday, Saturday, and Sunday, from noon - 5 pm, or by appointment. For more information, please check out this site or call (301) 696-8187 during Gallery hours.  
________________________________________________________________

TAG of Frederick is an artist cooperative established in 1990 and features monthly
solo exhibitions by members, as well as ongoing group exhibitions. A rich variety of subjects and mediums is always on view, ranging from realistic to abstract, and traditional to experimental mixed media creations. Please drop in and discover the wealth of talent right here in Frederick!
TAG of Frederick
216 North Market St.
Frederick, MD  21701